Introduction to form reading
The tried and trusted way of helping yourself to find a winner is by assessing the "Form" on offer for horses and races. This task can be as detailed or as simple as you like, but the more information you consider, the more likely you might be to find a profitable angle. 
In this form reading guide, you will discover the most important factors which regularly influence the outcome of a horse race. The Racing Post newspaper is the chief industry publication and also provides the most popular and regularly used horse racing form and data. "RP" form and ratings are what we will refer to in our guides.
Primary Elements
Each race meeting has its own racecard and within that racecard you can find a wealth of useful information to help you form the opinions you need to make sensible betting decisions on individual contests. Below are the Primary elements of a race to consider:
Form figures - These are the numbers which represent the recent finishing positions of a horse. Usually place next to the name of the horse, you will be able to view the last five or six finishing positions for a quick snapshot of recent form.
Age  - A simple thing, but the age of a horse is a key consideration and this information is also shown on all racecards. Some races are restricted to a certain age group, but many are open to all or most ages. From a form perspective, noting a horse's age in-line with other factors helps us understand where the horse is at in their career. 
Trainer - As we know from our trainer guide, the trainer is the person tasked with handling the care, nutrition and fitness of racehorses. They are a vital cog in the career of a horse and are responsible for all elements of their success on and off the track. In terms of form, it is important to consider the trainer's recent and course records when assessing a race. 
Jockey - As the human element to a horse race, the jockey is one of the most important aspects to any contest. By checking the recent and course form of a jockey, you can gain useful insight into the performance credentials of a rider. Quite often, a jockey has a proven relationship with a horse and it is always worth noting when this is the case. 
Track - Course form is another primary aspect to form reading. With around 60 tracks in the UK alone, all of them containing their own unique demands and configurations, having a baseline knowledge of the track is key to understanding what it will take to win a race there. 
Ground - The condition of the racing surface, known as the "Going", is hugely important when assessing a race. Every horse has their own preference to soft or firm surfaces. By checking the ground description for a race meeting and cross-checking it with the record of the horses within the races, you will quickly form a picture of which horses are most likely to handle conditions. 
Class - The class of the race will be stated in the race title itself and knowing the class of a contest allows us to check how suitable a race will be for the horses listed to run in it. A horse stepping up in class may be taken out of a proven comfort zone, while a horse stepping down in class could find themselves in a more winnable race than they're used to. 
Weight - Our handy Weight Guide explains all about the significance of weight in a horse race. From the affect a handicap race and official ratings has on the weight a horse must carry, to the weight-for-age and sex allowances at play, weight is a key part of form study.
Draw - On the flat, the draw is a necessary consideration at a variety of tracks and distances. The draw determines where a horse will be positioned in the starting stalls as the race begins. A "wide" draw can be a major disadvantage on certain tracks, while an inside draw can also be a setback if the ground of racing surface is known to be slower on that part of the track. You can find out where you horse is drawn by looking at the number in brackets next to their number on the racecard. 
Headgear - There is a range of "headgear" which horses can use to improve their focus during a race, this headgear can often dramatically improve the fortunes of a horse. "Blinkers" (B), "Hoods" (H) and "Cheekpieces" (P) are the three main types of headgear and there will be a letter next to the horse on a racecard to let you know when a horse is wearing one. If a horse is wearing the headgear for the first time, look out for a "1" next to the headgear letter. Some trainers have a good record when applying headgear, while on some occasions it can be a negative to reach for a set of blinkers, as it can be a last resort for helping a problematic horse rather than a likely catalyst to improvement.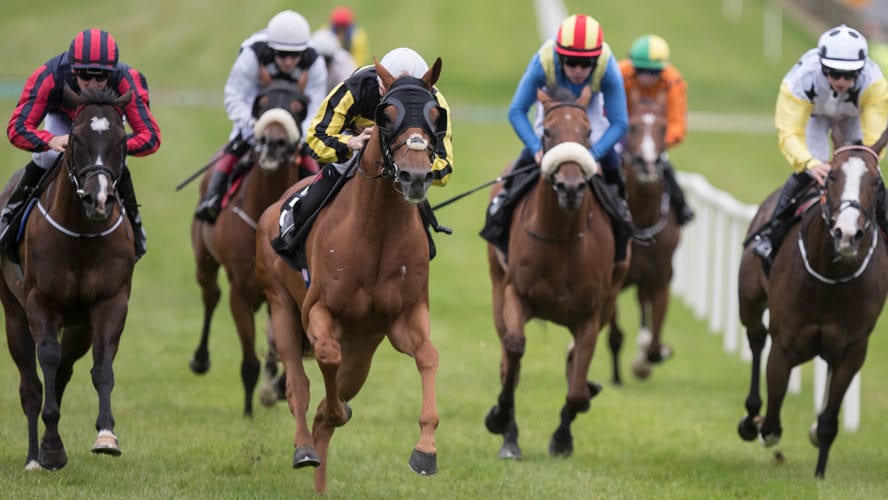 Secondary Elements
When you have a grasp on the conditions of a race, the people (trainer/jockey) involved, the ground and the recent form figures, you will have a solid basis from which to form an early opinion on how a race might pan out. However, it is at this point that we can dig a little deeper in order to gain further understanding.
The first thing to consider is previous form. By looking further back along a horse's career, you can learn what a horse is capable of at their best, their worse and from there, decide if today's race is what they need to show their best based on previous performance. Recent form figures can tell us plenty, but if the recent form of a horse leaves questions or doubt, looking further back will often unearth the clues required. 
Track configuration is worthy of note. Some horses like to go left-handed, some prefer right-handed tracks and many have no preference either way. Also, it is worth paying attention to the time of year. Most horses will peak at certain periods during the season, or have their season built around a certain event or race. Having an understanding of where a horse is at in their season can be useful in deciphering if "today is the day" for a certain horse, or if it is a likely stepping stone to another target. 
Make sure to check out our Ratings Guide to learn about another key consideration when it comes to modern form and performance reading. From Official Handicap ratings, to speed figures, horse "Ratings" help us assign numerical value to a horse's performance and perceived ability. They shouldn't be used as a stand-alone method of finding winners, but more a secondary guide for establishing a performance based pecking order for a race. 
Similar can be said about things like "pace maps", which are publically available to view now in places such as the Attheraces website. Pace maps provide an overview of how a race is likely to unfold in terms of where the pace or early speed is going to come from. If a race has 3 or 4 front-runners, we know there will be a strong early pace. Quite often in this case, punters will look for a horse that likes to be held-up and come with a late run who could take advantage of an overly strong early pace bias. 
Form & Race Symbols:
F = Fell | U = Unseated rider | B = Brought Down | CD = previous Course & Distance winner | BF = Beaten favourite in last race | R = Ran out or Refused to race
Headgear & Wind op Symbols:
P = Cheekpieces | B = Blinkers | H = Hood | W1/W2 = 1st or 2nd run after a "Wind Op"(eration) | V = Visor | e/s = Eye shield

Horse racing Form Lines
Have you ever looked at the recent form figures of a horse and wondered what those figures actually represent and mean? A horse may win three or four minor races on the spin in low grade company, before stepping up in class. At this point, many punters will see those winning figures and think the horse is a clear-cut candidate. They may well be, but in order to find out if and why they are a likely winner again, we need to dig behind the bare finishing position figure to establish what was actually achieved.
If a horse is on a winning streak, we need to discover the worth of the form when it comes to following them on their next run. If the 2nd and 3rd finishers behind the horse came out and ran well or won since the race, then we know the form line is solid. If however, the beaten horses do not perform well subsequently, then the form of the race can be called into question. Where we lack evidence regarding strength of form, usually because of not enough time elapsing since the race to gain a view, we can then look to the Racing Post Ratings (RPRs) and speed figures to find out what they are telling us about a performance. 
Form lines are a deep matrix of races and the performances of horses within them. From the winner to the horse tailed off in last place, we can learn a lot by taking a wider look at a race after the event to gain clarity on the worth of the form on show. What did the 2nd horse do next time? Did the horse in 5th come out and finish 2nd or 3rd in a better race next time? These are the kind of clues that can tell us if the form of a race is strong or weak. 
The Bottom Line
Reading the form can be as in depth or simple as you want it to be. Sometimes, keeping it simple is beneficial. A stand-out horse will stand out from early on in the process and will likely still stand out at the end of any amount of form study; the obvious will remain obvious.
Most races are a bit more complex and competitive though and in order to have an insightful understanding of the horses so the main contenders can be identified, reading through the form lines, ratings, weights and numerous other factors will quickly sort the wheat from the chaff. 
By narrowing a 12 runner field down to four main contenders, we can then have a think about the likely prices of these runners, their potential position in the betting market and then decide on a good value bet based on what we know.